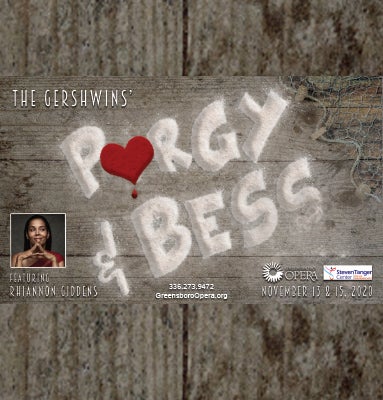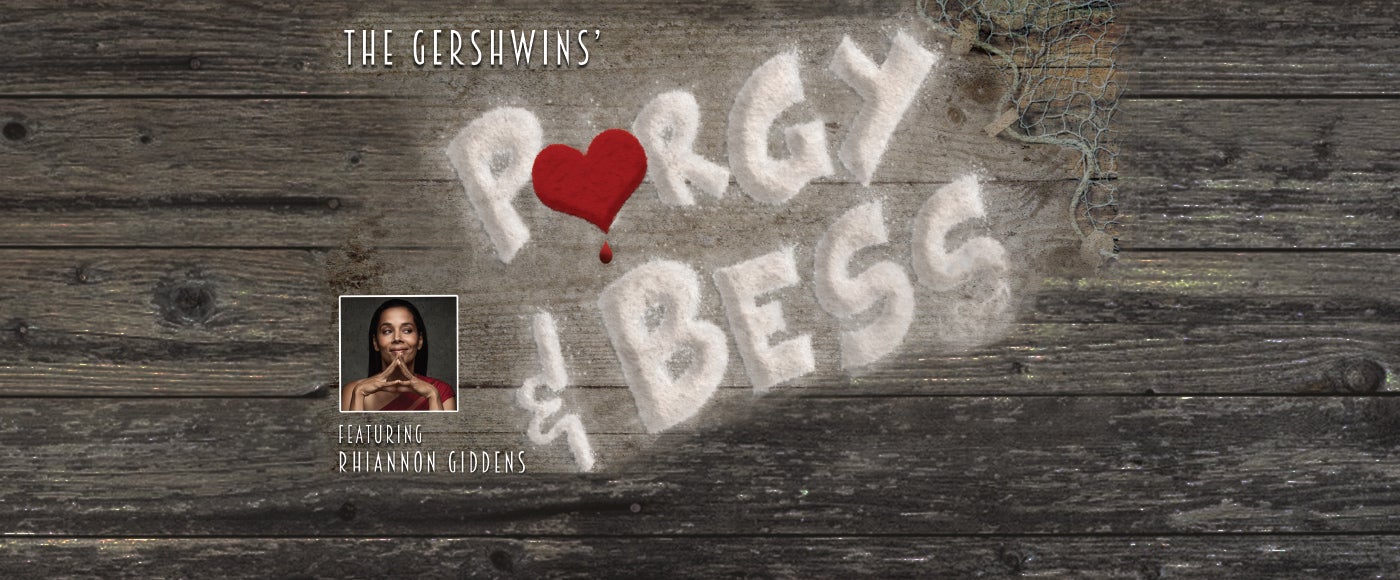 Porgy and Bess starring Rhiannon Giddens coming Nov. 13 & 15
Tuesday |
Sep
11
Porgy and Bess starring Rhiannon Giddens coming Nov. 13 & 15
View All News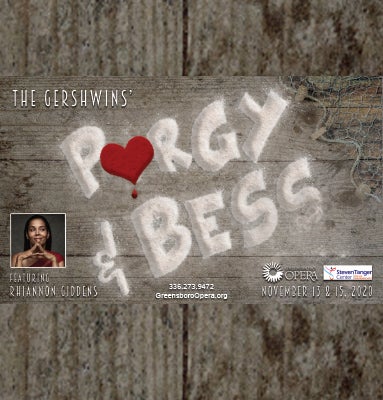 The Greensboro Opera will present Porgy and Bess at the Steven Tanger Center for the Performing Arts on November 13 and 15, 2020.
Porgy and Bess, the first event booking announcement for the Tanger Center, will feature Grammy-award winning musical artist and Greensboro native Rhiannon Giddens as Bess.
Greensboro Opera has enlisted key community partners to bring this live theatrical opera production to the inaugural season of the Tanger Center. For over 25 years, Greensboro Opera and Guilford County Schools have partnered to provide rich cultural experiences to students, including "Opera at the Carolina," which annually brings over 6,000 GCS fifth-graders to the Carolina Theatre and a 2014 residency at Swann Middle School (funded by ArtsGreensboro) in which the students wrote and performed their own opera. With arts education at the core of Greensboro Opera's mission, GCS and local university students, staff and teachers will be directly involved on stage and behind the scenes in this production of Porgy and Bess.

Additional partners in this collaborative community project include VF Corporation, Kathy Manning and Randall Kaplan, area universities (including UNCG and NC A&T), GCAMP (Jacquie Gilliam and Nancy Hoffmann, co-chairs), ArtsGreensboro, Awadagin Pratt (EMF Faculty Artist), and many others.
Greensboro Opera is currently taking priority deposits to put patrons 'first in line' for the seats of their choice before tickets go on sale to the general public in November. Visit www.GreensboroOpera.org for detailed deposit information and ticket prices. Patrons can also call the Greensboro Opera office at 336-273-9472.

About Porgy and Bess
George Gershwin called his masterpiece, Porgy and Bess, a "folk opera." With familiar tunes such as "Summertime," "I Got Plenty o' Nuttin'," "It Ain't Necessarily So," and "My Man's Gone Now," this greatest of American operas is a story about community: love for each other, struggles and redemption, and overcoming adversity.
About Rhiannon Giddens
Grammy-award winning Rhiannon Giddens (Bess) is a Greensboro native and a UNCG alumna. A 2017 MacArthur Foundation "Genius Grant" recipient (https://www.macfound.org/programs/fellows/), Ms. Giddens is a classically-trained singer with operatic credits such as the title roles in Gounod's Roméo et Juliette and Carlisle Floyd's Susannah, as well as Beth in the North Carolina premiere of Mark Adamo's Little Women, the latter two winning first place for the UNCG Opera Theatre in the National Opera Association's Opera Production Competition.

About Greensboro Opera
Founded in 1980, Greensboro Opera is a community based company dedicated to fostering the growth of opera, and to presenting professional productions of the highest artistic caliber for the enjoyment, education, and enrichment of the Triad region of North Carolina. GO's vibrant educational programs reach thousands of students each year. In addition to its annual mainstage production in UNCG Auditorium, GO is deepening its partnership with Well-Spring Life Community as an anchor tenant in its new $12-million dollar Theatre at Well-Spring, including producing Hansel and Gretel in March of 2019. www.GreensboroOpera.org.