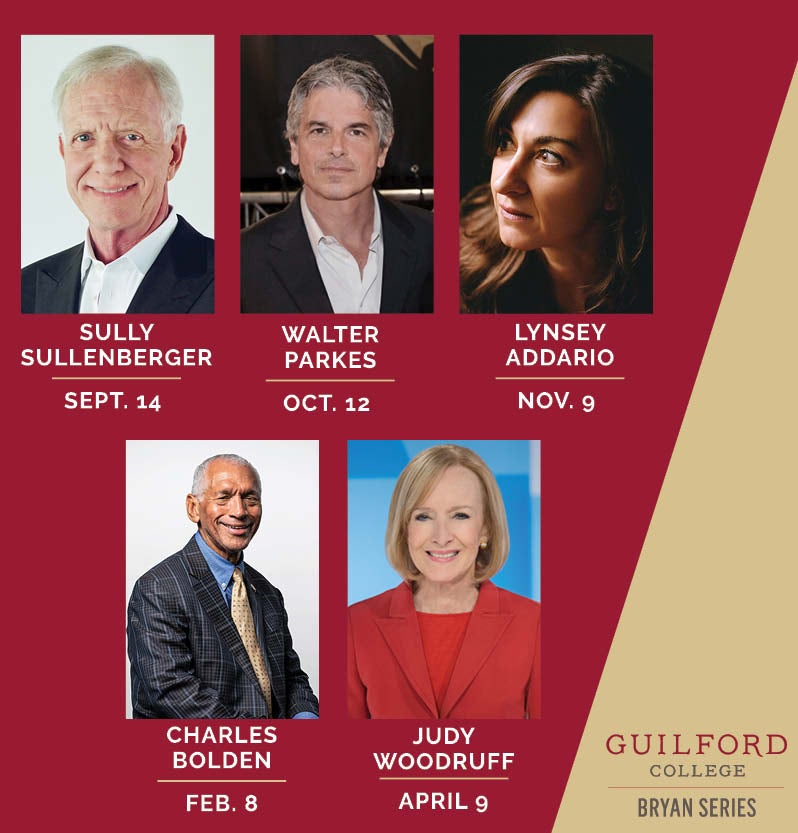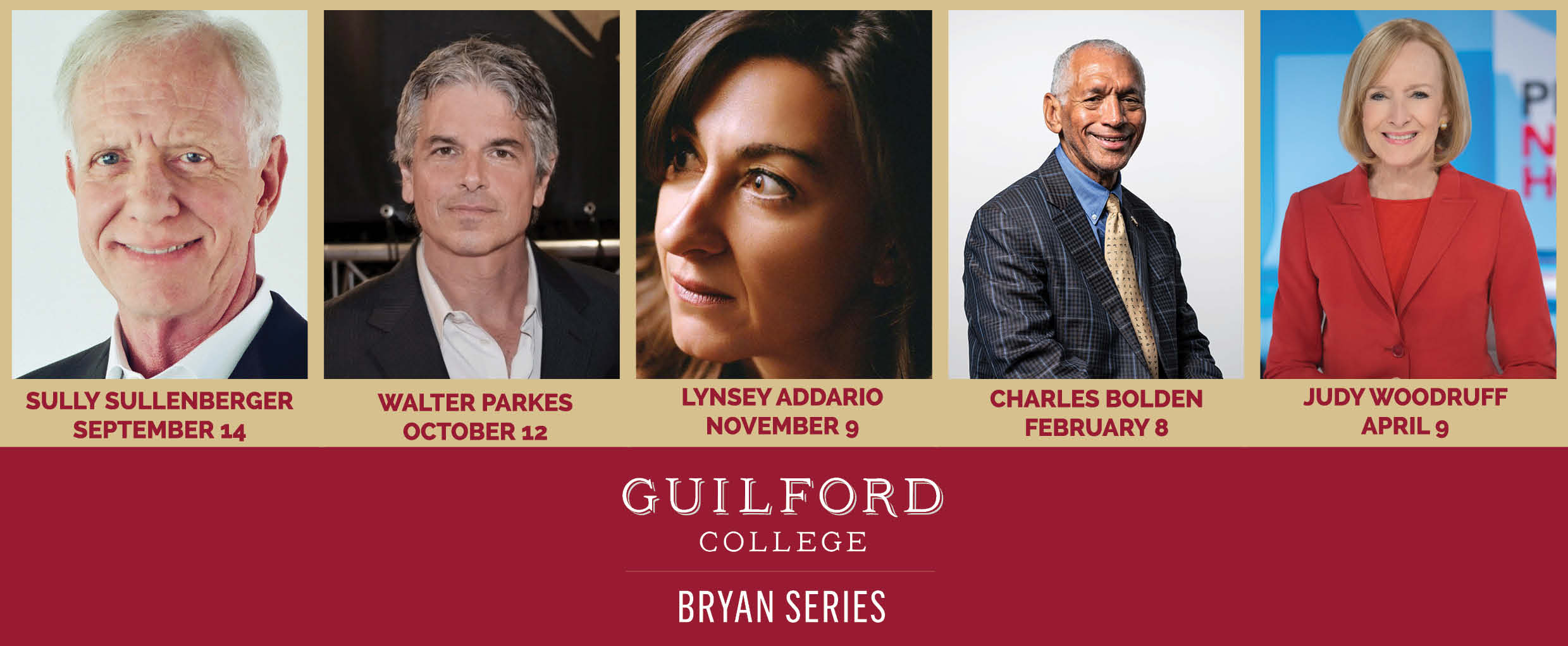 Heroic Pilot and Trailblazing Journalist in 2023-24 Guilford College Bryan Series Season
Friday |
Mar
24
Heroic Pilot and Trailblazing Journalist in 2023-24 Guilford College Bryan Series Season
View All News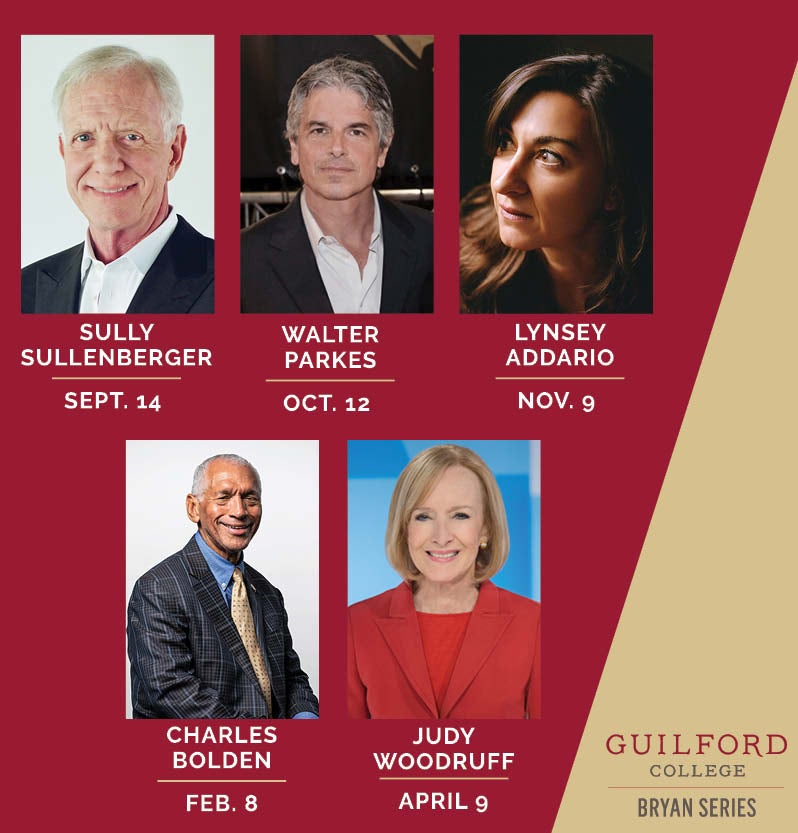 Sully Sullenberger, pilot in the "Miracle on the Hudson" in 2009, and Judy Woodruff, who is among the most distinguished anchors in television news, are among five speakers in the 2023-24 Guilford College Bryan Series season that begins in September.
Award winning movie maker Walter Parkes, Pulitzer Prize winning photographer Lynsey Addario and Space Shuttle commander and NASA administrator Charles Bolden round out the series' 19th subscription season, with all events at 7:30 pm at the Steven Tanger Center for the Performing Arts.
Current subscriptions and Legacy Society members are renewing their season commitments now, and new subscriptions and memberships will be on sale in May. More information is available at TangerCenter.com/BryanSeries and www.guilford.edu/bryanseries.
The theme of the season is Heroes in our Midst. "There are heroes all around us, some more apparent than others. They may save lives or simply help make people's lives better. They may work to protect our freedoms, shine a light on ways we can do better or lead us to explore new horizons," says LaToya Marsh, Director of the Bryan Series.
"On the Guilford College Bryan Series stage in the 2023-24 season we will present five heroes, some of whom are well known and others we will discover together, but all of whom have inspiring stories to share," she adds.
Sully, who will speak Thursday, Sept. 14, is the retired American fighter pilot, diplomat and airline pilot best known for his heroism as captain of US Airways Flight 1549 that he ditched in the Hudson River after both engines were disabled by a bird strike. All 155 people aboard survived. He was the subject of "Sully," a 2016 feature film starring Tom Hanks in the title role. Recently, the Aviation Museum in Charlotte was named for him.
Walter, who will appear Thursday, Oct. 12, is a screenwriter and producer of more than 50 films. He was President of Steven Spielberg's Amblin Entertainment and, later, head of Dreamworks motion picture division, overseeing film projects including three consecutive Best Picture Oscar winners. He is now developing virtual reality educational experiences with Dreamscape Immersive, his entertainment and technology company.
Lynsey, who will speak Thursday, Nov. 9, is an American photojournalist who has been covering conflict, humanitarian crises and women's issues in the Middle East and Africa on assignment for The New York Times and National Geographic for more than two decades. She is the recipient of numerous awards including the Pulitzer Prize and the MacArthur Fellowship. Hollywood has acquired the rights to make a film out of her life story.
Charles, who appears Thursday, Feb. 8, served as the 12th NASA Administrator (2009-17) and was the first African American and only the second former astronaut to hold the position. As NASA Administrator he oversaw the transition to a new era of exploration focused on the International Space Station. He commanded the Space Shuttles Atlantis and Discovery, and his mentor in the astronaut program was fellow South Carolinian Ronald McNair.
Judy, who will speak Tuesday, April 9, has worked in network, cable and public television news for nearly 50 years. She was the anchor and managing editor of the "PBS NewsHour" through the end of 2022, and for a period was co-anchor with former Bryan Series speaker Gwen Ifill. The Duke University alumna has covered every presidential election and convention since 1976 and moderated U.S. presidential debates.
The Guilford College Bryan Series has presented major speakers on the Guilford campus and to large community audiences since 1996. It has been held the past two years at the Tanger Center in downtown Greensboro.