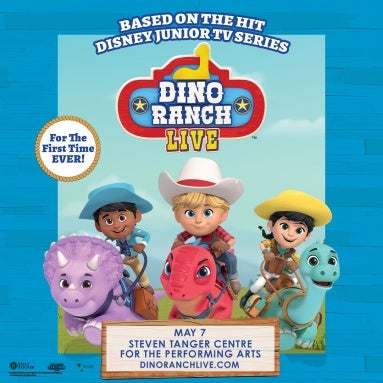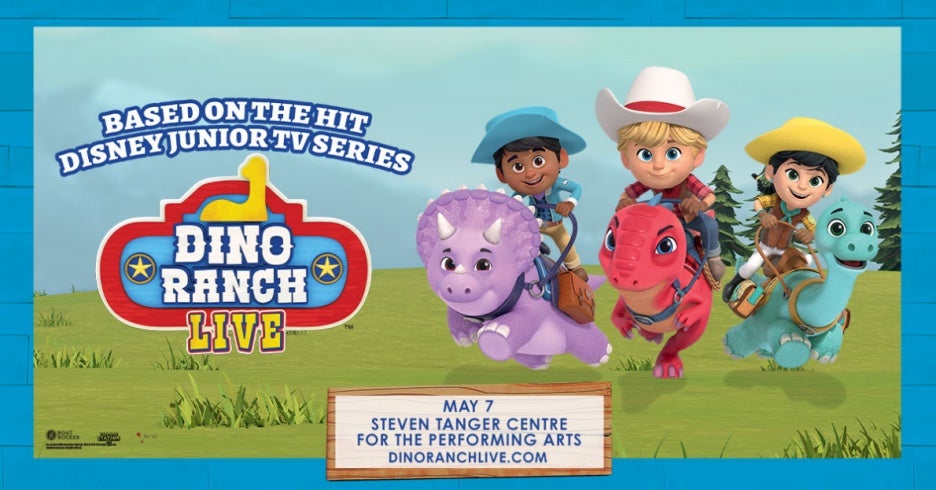 DINO RANCH LIVE ROARS INTO GREENSBORO ON MAY 7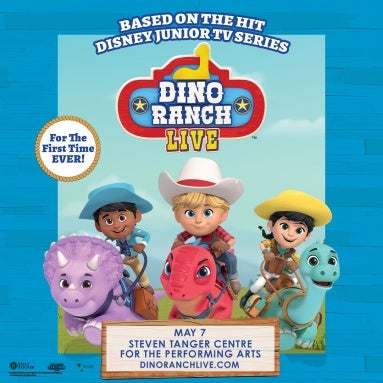 For the first time ever, Dino Ranch Live is hitting the road and will Dino-SOAR onto the Tanger Center stage on May 7. The fun-filled, family friendly and action-packed live show is based on the hit animated series seen on Disney Junior and follows the adventures of the Cassidy family and junior Ranchers Jon, Min, Miguel, their loveable dinos Blitz, Clover and Tango and the mischievous Tin Horn Trio. Dino Ranch Live tour schedule, tickets and VIP packages can be found at www.dinoranchlive.com.
Presales begin tomorrow, January 31 and there are a number of opportunities available: Citi Cardmembers presale begins January 31; the Dino Ranch Facebook and Instagram follower and Bandsintown presales begin February 1; and Ticketmaster ad local venue presales begin February 2 (all presales begin at 10 a.m. local time). Tickets go on sale to the general public February 3. VIP packages will also be available for pre-show opportunities including premium seating, exclusive merchandise and character experiences.
Produced by Fierylight and Terrapin Station Entertainment, Dino Ranch Live combines a unique mix of two favorite preschool passions: dinosaurs and ranchers. In the live show, the Dino Rancheroos introduce the trainee Rancheroos (the audience) to Dino Ranch, the thrill of ranch life and teach them how to ride, lasso and introduce them to thrilling adventure. After a very rare Dino egg gets stolen by the mischievous Tin Horn Trio, Jon, Min and Miguel must pursue them to save the rare egg. They head into the Badlands where many adventures await including a roar-off with a rogue T-Rex.
"We are turning Dino Ranch into an epic, live adventure that audiences will never forget. I'm so excited to bring the successful TV series and family-favorite elements from the show to life on stage for what will be the first live theatre experience for many young fans," said Richard Lewis, writer and director of Dino Ranch Live and CEO of Fierylight.
Kate Schlomann, EVP Brand Management and Content Marketing, Boat Rocker said, "Dino Ranch Live is an epic, roarsome adventure. We know that our young fans will be thrilled by the incredible show created by Fierylight and Terrapin Station Entertainment. The dynamic combination of adventurous young ranchers and daring dinos provides a fans with a real life Dino Ranch spectacle that will delight all our Rancheroos."
Dino Ranch has been a monster hit since launching in January 2021 on Disney Junior, Disney Now and subsequently on Disney+ in the U.S. and the UK. Friday, January 27th was the start of Dino Ranch Marathon Week on Disney Junior and now fans can expect to experience the same thrilling adventures of ranch life on-stage in the fast-paced and exciting live show.
Dino Ranch is created by Matt Fernandes (of Industrial Brothers) and produced by Industrial Brothers and Boat Rocker, in association with CBC Kids and Radio-Canada. Boat Rocker manages the global franchise development, including content distribution and consumer products.
For more information, visit www.dinoranchlive.com and follow Dino Ranch Live on Facebook and Instagram.
###
Press assets are available to view here.
Press requests can be submitted at livenation.com/pressrequests.
ABOUT BOAT ROCKER
Boat Rocker (TSX: BRMI) is the home for creative visionaries. An independent, integrated global entertainment company, Boat Rocker's purpose is to tell stories and build iconic brands across all genres and mediums. With offices around the world, Boat Rocker's creative and commercial capabilities include Scripted, Unscripted, and Kids & Family television production, distribution, brand & franchise management, a world-class animation studio, and talent management through Untitled Entertainment. A selection of Boat Rocker's projects include: Invasion (Apple TV+), Orphan Black (BBC AMERICA, CTV Sci-Fi Channel), Dear… (Apple TV+), Billie Eilish: The World's a Little Blurry (Apple TV+), The Next Step (BBC, Family Channel, CBC), Daniel Spellbound (Netflix), and Dino Ranch (Disney+, Disney Junior, CBC). For more information, please visit www.boatrocker.com.
ABOUT FIERYLIGHT
Fierylight are a London-based production company specialising in creating quality commercial work for young audiences. Bringing some of the world's most popular brands to life for families, Fierylight's current and previous productions include six Peppa Pig Live shows, The Teletubbies, Roald Dahl's The BFG, Lazytown, The Octonauts, Ben & Holly's Little Kingdom, Julia Donaldson's The Smartest Giant in Town and Spongebob Squarepants in the UK, USA and Australia. www.fierylight.co.uk
ABOUT TERRAPIN STATION ENTERTAINMENT
Founded by industry veteran Jonathan Shank in 2020, Terrapin Station Entertainment, a division of Sony Music Entertainment, is an artist management and production company dedicated to helping musicians and brands capitalize on their core audience and shine in the cultural mainstream. With expertise in management, family entertainment, and brand experiences, the Terrapin team strives to ensure that clients achieve their goals. www.terrapinent.com