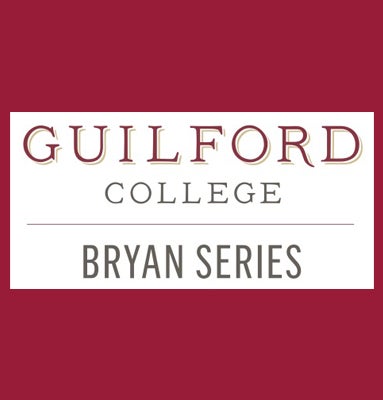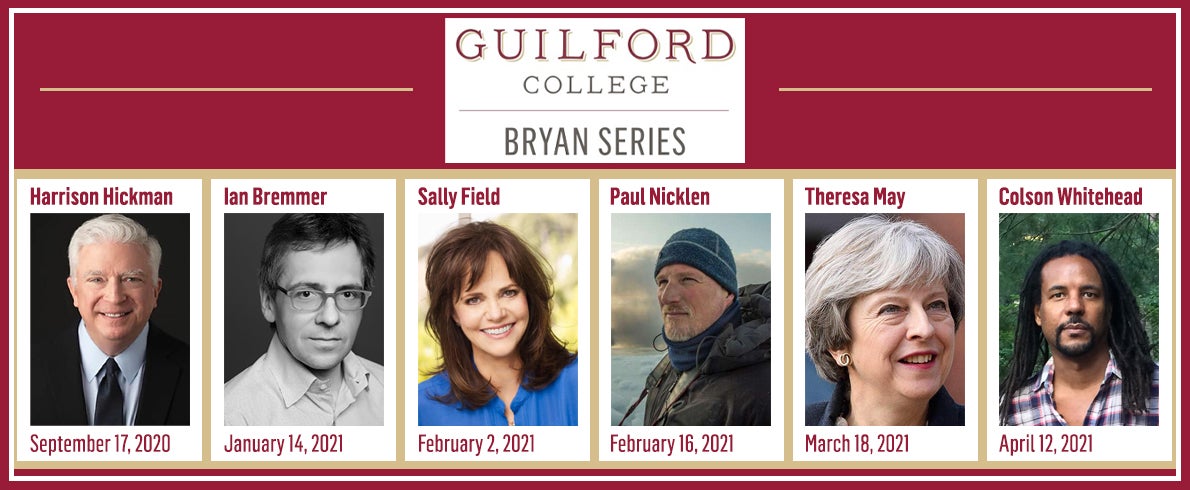 2020-21 Bryan Series to Include a Mix of Virtual and In-Person Speaker Events
Wednesday |
May
06
2020-21 Bryan Series to Include a Mix of Virtual and In-Person Speaker Events
View All News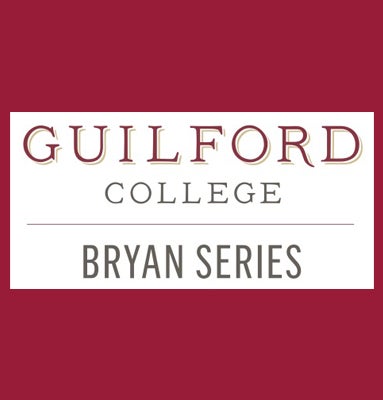 The Guilford College Bryan Series in 2020-21 will feature a blend of virtual and in-person speaker programs providing residents of the Piedmont Triad opportunities to re-engage with experts on issues of local, national and global significance in the wake of the COVID-19 pandemic.

The new season will kick off Sept. 17 with a pre-election presentation by Guilford College alumnus Harrison Hickman, a national political consultant and pollster. It will be the first Bryan Series program available to subscribers on an online platform. One or more additional virtual events are being confirmed for the fall.

During the first four months of 2021, five in-person speaker programs will be presented at the new Steven Tanger Center for the Performing Arts in downtown Greensboro, including two that were originally scheduled this spring but were postponed due to public gathering restrictions during the pandemic.

Academy Award-winning actress Sally Field, who was to have appeared March 24 as part of the Tanger Center's opening week, will make a presentation Feb. 2, 2021. The Rt. Hon. Theresa May MP, Prime Minister of the UK 2016-19, will be featured in one of three newly scheduled events March 18.

"The pandemic inspired us to explore additional ways to deliver programs to a large audience of Bryan Series constituents," said Ty Buckner, Guilford's Associate Vice President for Alumni & Constituent Relations. "We intend for our series to be a catalyst for helping the community spring back to life."

Also appearing at the Tanger Center are Ian Bremmer (Jan. 14), political scientist and president and founder of the Eurasia Group, Paul Nicklen (Feb. 16), National Geographic and conservation photographer, and Colson Whitehead (April 12), two-time Pulitzer Prize-winning author. Colson was to have been presented April 23 of this year.

Current subscribers will begin renewing for the Bryan Series' 16th subscription May 13, and new subscriptions will be on sale over the summer.

2020-21 speakers, in brief:

Harrison Hickman (Sept. 17) is founder of Hickman Analytics, a public opinion research and consulting firm. He was the Presidential campaign pollster for John Edwards, Al Gore and Bob Kerrey, and he served as the principal election night consultant at the CBS election night anchor desk for two decades. He earned a Political Science degree from Guilford in 1975.

Ian Bremmer (Jan. 14) is president and founder of Eurasia Group, the leading global political risk research and consulting firm. He serves as the Foreign Affairs Columnist and Editor at Large for Time magazine. In 2018, he was named the most influential voice globally by LinkedIn. A prolific writer, his latest book, Us vs. Them: The Failure of Globalism is a New York Times bestseller.

Sally Field (Feb. 2) has a 50-plus year career in film, television and stage that includes Best Actor Oscars for "Norma Rae" and "Places in the Heart." She earned an Emmy for the miniseries "Sybil" and portrayed Mary Todd Lincoln in the 2012 movie "Lincoln." Her memoir, In Pieces, was published in 2018 and she was a Kennedy Center honoree last December.

Paul Nicklen (Feb. 16) is a regular contributing photographer for National Geographic magazine and founder of the SeaLegacy society. In addition to being one of the world's most acclaimed nature photographers, he is a polar specialist, speaker, author and conservationist. He has more than 30 of the highest awards given to any photographer in his field.

Theresa May (March 18) served as leader of the United Kingdom for three years until July 2019. She is the second woman in British history to hold the position, following Margaret Thatcher. She served as Prime Minister and Leader of the Conservative Party from 2016 to 2019, during an extraordinary time in global affairs. She continues to serve as a Member of Parliament.

Colson Whitehead (April 12) has established himself as one of the most versatile and innovative writers in contemporary literature. He was awarded the Pulitzer Prize for Fiction for his novels The Underground Railroad, a No. 1 New York Times bestseller and National Book Award honoree, and The Nickel Boys, a best-seller after its release last July.

For more information, visit bryanseries.guilford.edu or email [email protected]

Guilford College, through the Bryan Series, has presented important figures in the arts, humanities and public affairs for its campus and the wider community since 1996.