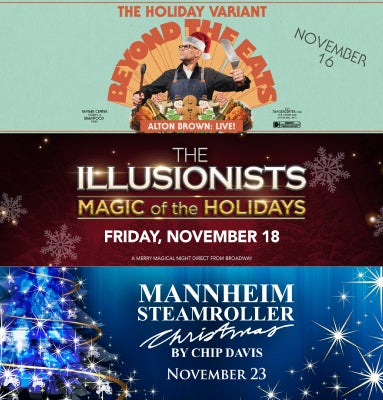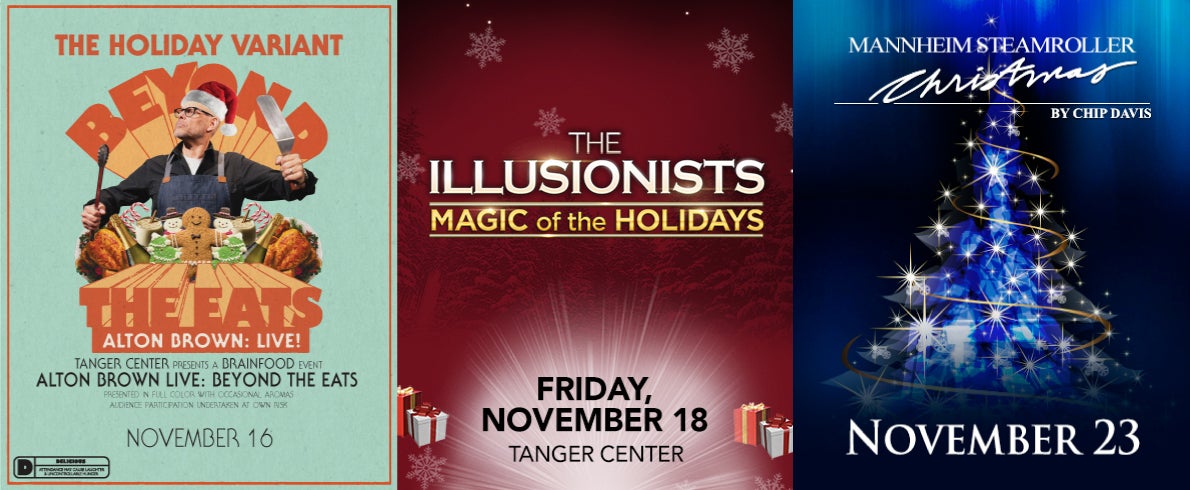 Tanger Center announces three exciting holiday shows, coming in November
Monday |
July
25
Tanger Center announces three exciting holiday shows, coming in November
View All News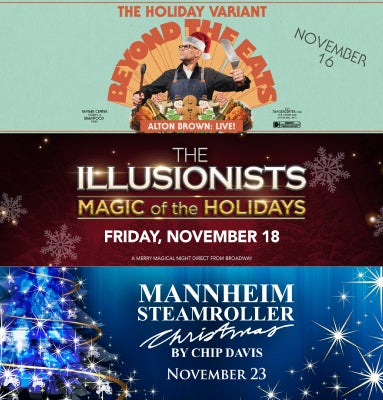 The Steven Tanger Center for the Performing Arts is celebrating Christmas in July by announcing three exciting shows coming this holiday season – Alton Brown Live: Beyond The Eats - The Holiday Variant (November 16); The Illusionists – Magic of the Holidays (Friday, November 18); and Mannheim Steamroller Christmas (November 23). Tickets go on sale on Friday, July 29 at 10 a.m. at TangerCenter.com.
About Alton Brown Live: Beyond the Eats – The Holiday Variant
Alton Brown is hitting the road with a new culinary variety show. Audiences can expect more comedy, more music, more highly unusual cooking demos, and more potentially dangerous sciencey stuff with a sprinkle of seasonal spices. Prepare for an evening unlike any other and if Brown calls for volunteers… think twice.
About The Illusionists – Magic of the Holidays
Celebrate the holidays with the entire family at The Illusionists – Magic of the Holidays, a mind-blowing showcase featuring jaw-dropping talents of the most incredible illusionists on earth. The Illusionists has shattered box office records across the globe and dazzles audiences of all ages with a powerful mix of the most outrageous and astonishing acts ever seen on stage. This non-stop show is packed with thrilling and sophisticated magic of unprecedented proportions.
About Mannheim Steamroller Christmas
MANNHEIM STEAMROLLER CHRISTMAS by Chip Davis has been America's favorite holiday tradition for over 35 years! Grammy Award winner Chip Davis has created a show that features Mannheim Steamroller Christmas classics in the distinctive Mannheim sound. The program celebrates the group's recent anniversary of 35 years since the first Christmas album and includes dazzling multimedia effects performed in an intimate setting. Experience the magic as the spirit of the season comes alive with the signature sound of Mannheim Steamroller.