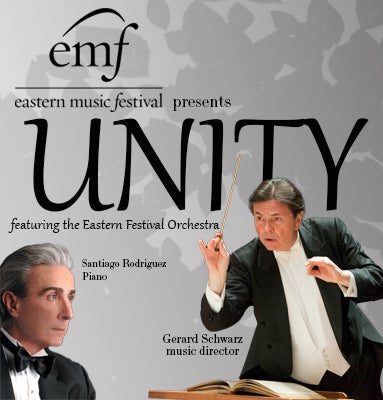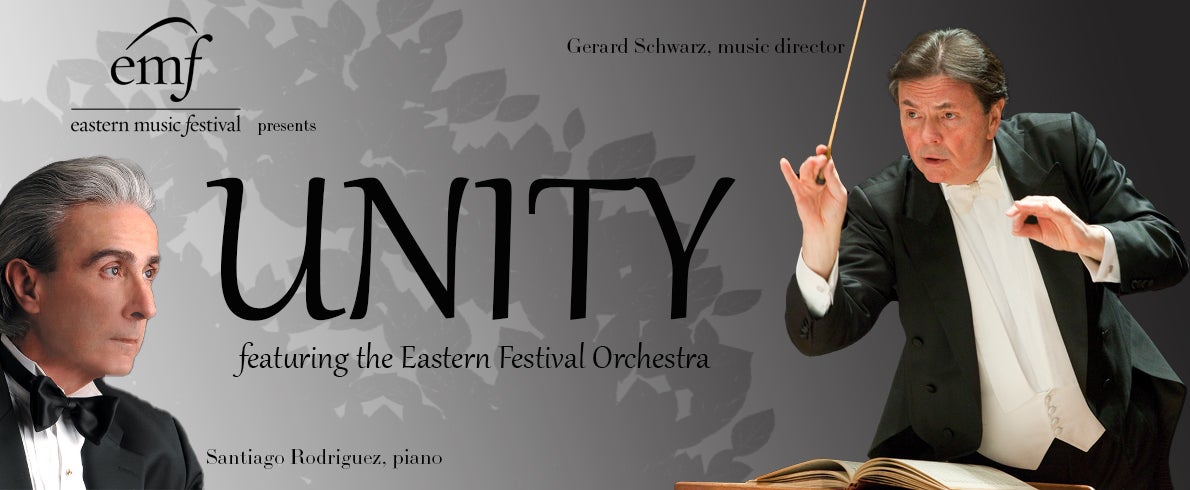 Eastern Music Festival presents the Eastern Festival Orchestra live in concert at the Steven Tanger Center for the Performing Arts on July 9
Monday |
May
09
Eastern Music Festival presents the Eastern Festival Orchestra live in concert at the Steven Tanger Center for the Performing Arts on July 9
View All News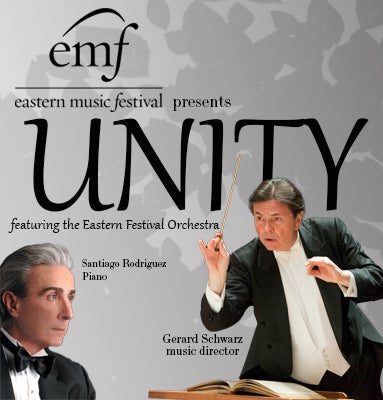 Eastern Music Festival (EMF), Greensboro's nationally recognized classical music festival and summer educational program (June 25-July 30), relishes in the opportunity to perform at the Steven Tanger Center for the Performing Arts in Downtown Greensboro on July 9 at 8pm. The evening will feature guest artist Santiago Rodriguez on piano and the Eastern Festival Orchestra led by critically acclaimed music director, Gerard Schwarz in a program titled "Unity."
The performance on July 9 will feature the Eastern Festival Orchestra playing Umoja: Anthem of Unity composed by living female composer, Valerie Coleman, the Grieg Piano Concerto in A minor featuring Santiago Rodriguez on piano, as well as the Tchaikovsky Symphony No.4 in F minor.
"The Eastern Music Festival family is overjoyed to have the opportunity to perform in the beautiful new space," says Executive Director Chris Williams. "The conversation started four years ago, and we are thrilled to finally be here. We are grateful to the City of Greensboro and the Tanger Center staff for making his happen."
About Santiago Rodriguez: Santiago Rodriguez has been called "a phenomenal pianist" (New York Times) and "among the finest pianists in the world" (Baltimore Sun). He has performed internationally with leading orchestras as a soloist, recitalist, and chamber musician. One of today's foremost interpreters of the music of Sergei Rachmaninov, Rodriguez has performed all of the composer's major piano works in concert. Rodriguez also enjoys a distinguished reputation as a teacher and master-clinician, and in 2009, he was named Professor and Artist-in-Residence at the Frost School of Music, University of Miami.
About Valerie Coleman: Valerie Coleman is a living composer whose work as a performer, educator, composer, and advocate has a transformative impact everywhere her journey takes her. Coleman was named to The Washington Post's "Top 35 Women Composers" and in 2020 was honored as Classical Woman of the Year by American Public Media's classical music review Performance Today. She is a GRAMMY-nominated flutist, award-winning composer, and founder of the internationally renowned woodwind quintet Imani Winds. In fall of 2021 Coleman joined the faculty of Mannes School of Music after previously teaching at The Frost School of Music at the University of Miami. She is also currently in residency at The Juilliard School through the American Composers Forum.
Single tickets for this performance must be purchased through the Steven Tanger Center for Performing Arts. For program details and the full Eastern Music Festival Schedule, please visit easternmusicfestival.org/calendar.
About Eastern Music Festival:
For six decades, Eastern Music Festival (EMF), a nationally recognized classical music festival and summer educational program, is produced each summer on the campus of Guilford College and other venues in the Greensboro, North Carolina, area. EMF is distinguished by its accomplished faculty, exhilarating repertoire, and world-renowned visiting artists under the artistic direction of Gerard Schwarz. A powerful teaching institution, EMF provides encouragement and guidance to hundreds of young musicians from across the country and around the globe as they take their first steps towards careers in the performing arts. EMF's five-week 61st season is June 25 – July 30, 2022. For more information, visit easternmusicfestival.org. Follow EMF on Facebook, Instagram, Twitter, and YouTube.