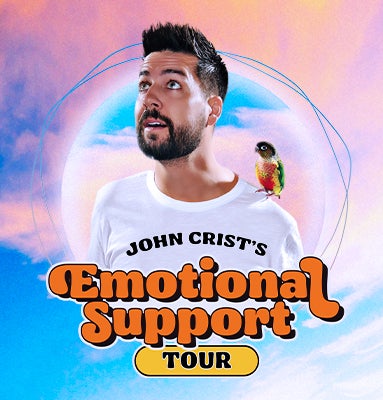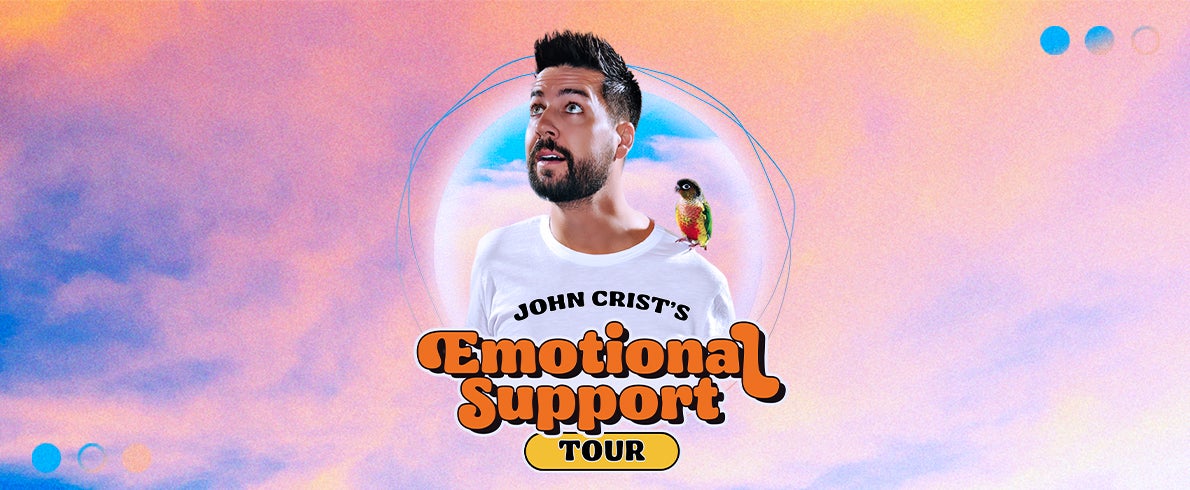 COMEDIAN JOHN CRIST ANNOUNCES MORE DATES ON HIS 2023 "EMOTIONAL SUPPORT" TOUR
Tuesday |
Apr
25
COMEDIAN JOHN CRIST ANNOUNCES MORE DATES ON HIS 2023 "EMOTIONAL SUPPORT" TOUR
View All News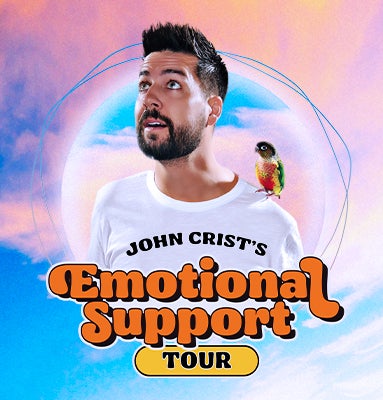 John Crist has announced the next leg of his upcoming Emotional Support Comedy Tour, including a stop in Greensboro at the Steven Tanger Center for the Performing Arts on October 1.
Crist is one of today's fast-rising stand-up comedians, with more than one billion video views, over five million fans on social media and sold-out shows from coast to coast. To meet growing demand, the comedian and internet phenomenon has extended his 2023 Emotional Support Tour, adding 33 more shows in the fall and winter.
Pre-sales begin April 27 at 10 a.m. All tickets will go on sale to the public on Friday, April 28, 2023, at 10 a.m. local time at TangerCenter.com and johncristcomedy.com.
Emotional Support Comedy Tour - New Dates
Sept. 14, 2023 Oklahoma City, OK Thelma Gaylord Performing Arts Theatre
Sept. 15, 2023 Tulsa, OK Tulsa Theater
Sept. 16, 2023 Wichita, KS Century II Performing Arts Center - Concert Hall
Sept. 17, 2023 Springfield, MO Juanita K. Hammons Hall for the Performing Arts
Sept. 21, 2023 Ottawa, ON Meridian Theatres @ Centrepointe
Sept. 22, 2023 Peterborough, ON Peterborough Memorial Centre
Sept. 23, 2023 London, ON Centennial Hall
Sept. 29, 2023 Myrtle Beach, SC Alabama Theatre
Sept. 30, 2023 Roanoke, VA Berglund Performing Arts Theatre
Oct. 1, 2023 Greensboro, NC Steven Tanger Center for the Performing Arts
**Oct. 13, 2023 Atlanta, GA Fox Theatre
Oct. 15, 2023 Birmingham, AL Alabama Theatre
Oct. 20, 2023 Cedar Rapids, IA Paramount Theatre
Oct. 21, 2023 Springfield, IL UIS Performing Arts Center
Oct. 22, 2023 Evansville, IL Old National Events Plaza
Nov. 2, 2023 Columbus, OH Palace Theatre
Nov. 3, 2023 Joliet, IL Rialto Square Theatre
Nov. 4, 2023 Rockford, IL Coronado Performing Arts Center
Nov. 5, 2023 Milwaukee, WI Riverside Theater
Nov. 10, 2023 Winnipeg, MB Burton Cummings Theatre
Nov. 11, 2023 Edmonton, AB Northern Alberta Jubilee Auditorium
Nov. 12, 2023 Calgary, AB Southern Alberta Jubilee Auditorium
Nov. 16, 2023 Reading, PA Santander Performing Arts Center
Nov. 17, 2023 York, PA Strand Theater @ The Appell Center
Nov. 18, 2023 Norfolk, VA Harrison Opera House
Nov. 19, 2023 Richmond, VA Altria Theater
Nov. 30, 2023 Tucson, AZ Tucson Music Hall
*Dec. 1, 2023 Phoenix, AZ Orpheum Theatre
Dec. 7, 2023 San Antonio, TX Majestic Theatre
Dec. 8, 2023 Austin, TX Austin City Limits Live at the Moody Theater
Dec. 9, 2023 Beaumont, TX Jefferson Theatre
Dec. 10, 2023 Baton Rouge, LA River Center Performing Arts Theater
Jan. 26, 2023 Nashville, TN Ryman Auditorium
LEARN MORE ABOUT JOHN CRIST HERE
ABOUT OUTBACK PRESENTS
Outback Presents is the leading independent, full-service promoter of live entertainment. From their home base in Nashville, TN, Outback Presents specializes in producing music and comedy shows, tours and festivals across North America and connecting their diverse roster of artists with their fans. For more information, visit www.outbackpresents.com.
For Press Inquiries:
EJ Saftner