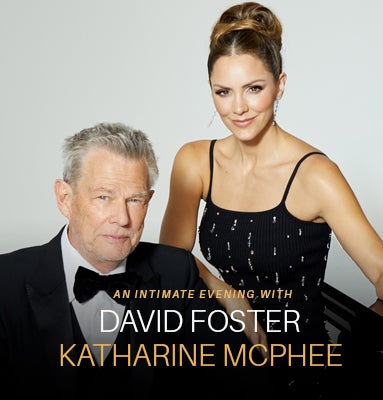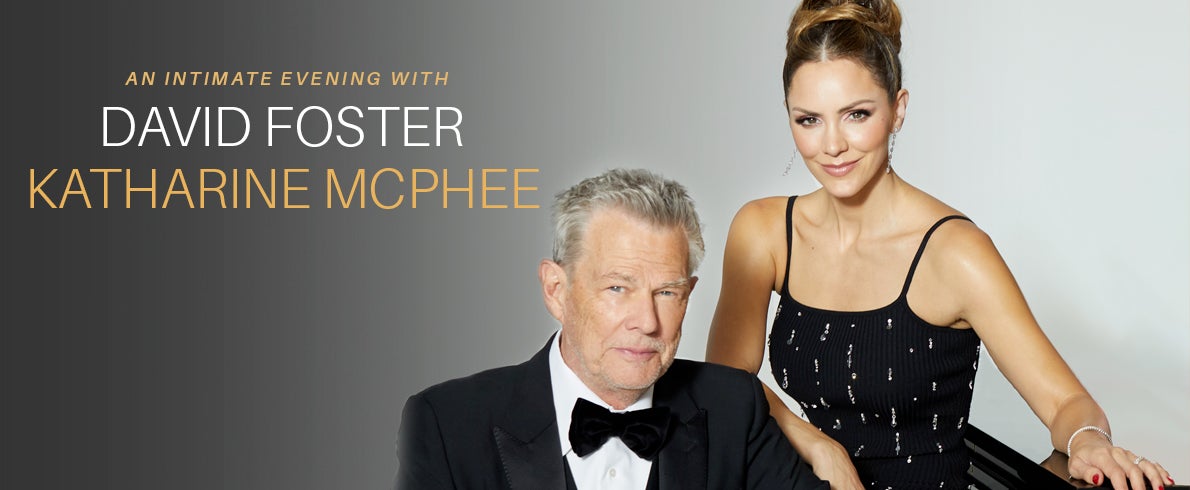 AN INTIMATE EVENING WITH DAVID FOSTER AND KATHARINE MCPHEE COMING TO TANGER CENTER FEBRUARY 23
Monday |
May
15
AN INTIMATE EVENING WITH DAVID FOSTER AND KATHARINE MCPHEE COMING TO TANGER CENTER FEBRUARY 23
View All News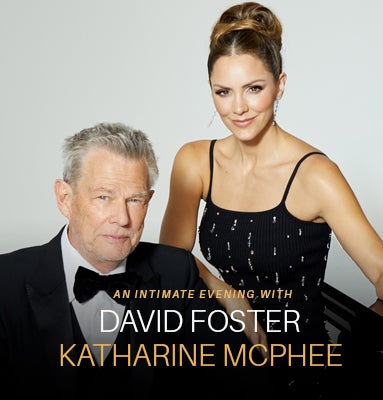 Grammy Award-winning producer David Foster and singer/actor Katharine McPhee are extending their highly successful tour into 2024. The will make a stop in Greensboro at the Steven Tanger Center for the Performing Arts on Friday, February 23, 2024. Tickets go on sale Friday, May 19 at 10 a.m. at TangerCenter.com and Ticketmaster.com.
Foster who has been anointed the "Hitman" by the music industry, will continue, along with McPhee, their "An Intimate evening with David Foster and Katharine McPhee" tour starting February 14 in Sarasota, FL. They will play 18 dates ending in Atlanta, GA.
An intimate evening with David Foster and Katharine McPhee is just that: an intimate evening with one of the biggest musical forces of our time. The 16-time Grammy award winning writer/producer performs songs that he wrote or produced from his four decades of hits and includes fascinating storytelling about the songs, artists and moments of his life. Some of the songs David and Katharine perform include Celine Dion's "The Power Of Love," Whitney Houston's "The Bodyguard", Earth Wind and Fire's "After The Love Is Gone," Chicago's "You're The Inspiration", Josh Groban's "You Raised Me Up," Natalie Cole's "Unforgettable" and many, many more. They also perform a selection of hit songs that are beloved by Katharine's fans.
Audiences love the banter and fun between the duo as they tell stories of how they met, what these songs mean to them, and the stories behind the songs.
Commenting on the tour Foster and McPhee say, "We are so excited that our shows have been so well received, that we will keep going. No rest for us. See you all next year."
DAVID FOSTER is one of the most illustrious composers of our time. With 16 Grammy Awards, including three for Producer of the Year, an Emmy Award, a Golden Globe, and Three Oscar nominations for "Best Original Songs," Foster has earned a reputation as a keen spotter of new talent, playing a key role in the discovery and career launches of Celine Dion, Josh Groban, and Michael Bublé.
Few other individuals can claim to have their fingerprints on more major moments in all of popular music than DAVID FOSTER. He has created hit songs for a diverse array of artists including Barbra Streisand, Celine Dion, Whitney Houston, Michael Jackson, Madonna, Andrea Bocelli, Michael Bublé, Josh Groban, Chicago, Rod Stewart, Stevie Wonder, Earth, Wind Fire, Tony Braxton, Natalie Cole, Michael Bolton, Seal, Chaka Khan, Kenny Rogers, Dolly Parton, Hall Oates, Brandy, 'N Sync, Boz Scaggs, and Gloria Estefan.
In 2008 and 2011, Foster stepped out as a performer in his own right with Hitman, David Foster and Friends PBS specials which became PBS' highest-rated shows in decades. In 2018/19 Foster started touring with his show 'An Intimate Evening with David Foster'. The shows garnered rave reviews and were so successful that he now devotes much of his time to selling out concerts around the world.
Foster is gearing up to take on Broadway with several projects including writing the music for a new musical about the iconic animated character "Betty Boop." He is also writing the music for a musical based on the Amy Bloom novel and New York Times bestseller "Lucky Us."
---
KATHARINE MCPHEE is one of a handful of artists who takes the lead in a career that includes film, television, Broadway, recording and touring. Katharine recently starred in both the U.S. and U.K. productions of the hit Broadway show Waitress. She also starred in the Netflix Original Series Country Comfort. Previously she starred as 'Paige Dineen' on the CBS' spy drama Scorpion and was featured in NBC's award-winning musical series Smash, executive produced by Steven Spielberg. Her other television credits include CSI: NY, Community, and Family Guy.
Katharine appeared on the big screen in Columbia's romantic comedy The House Bunny. In addition to her acting career, she finds great success in the music space after her turn on Season 5 of American Idol. Katharine's first single debuted at #2 on the Billboard's Hot Singles Sales chart. Her debut album landed on the Billboard 200 chart and went gold in 2008.
A veteran of the concert stage, Katharine performs to sold out audiences around the world.
Christmas 2022 Katharine released Part 1 of her Christmas album called Christmas Songs. A collection of Christmas classics produced by David Foster. Part 2 will be released Christmas 2023.